If you have bought a Nintendo 3DS
or Nintendo 3DS XL
and a game lately, you can get a copy of Super Mario 3D Land for free, by entering the Club Nintendo code you got with it, here is the email I received:
How it works:

Step 1)
Register a Nintendo 3DS or Nintendo 3DS XL system and one of 15 eligible games at
www.club-nintendo.com between 15:01 (UK time) on November 27th 2013 and 22:59 (UK time) onJanuary 13th 2014.

Eligible games:
– Mario & Luigi: Dream Team Bros.
– Animal Crossing: New Leaf
– The Legend of Zelda: A Link Between Worlds
– Donkey Kong Country Returns 3D
– Fire Emblem: Awakening
– Luigi's Mansion 2
– LEGO CITY® Undercover: The Chase Begins
– Sonic Lost World (Nintendo 3DS version)
– Monster Hunter 3 Ultimate (Nintendo 3DS version)
– Pokémon X
– Pokémon Y
– Bravely Default (launching December 6th)
– New Super Mario Bros. 2
– Mario Kart 7
– Professor Layton and the Azran Legacy
Step 2)
Log in to Club Nintendo 24 hours later and check the promotional banners to claim your free download code. The deadline for claiming the download code is 22:59 (UK time) on February 13th 2014.

Step 3)
Use your download code in Nintendo eShop before 22:59 (UK time) on March 13th 2014 to download SUPER MARIO 3D LAND for free!

For further information regarding this promotion, please refer to the Terms & Conditions on our website or at the bottom of this email.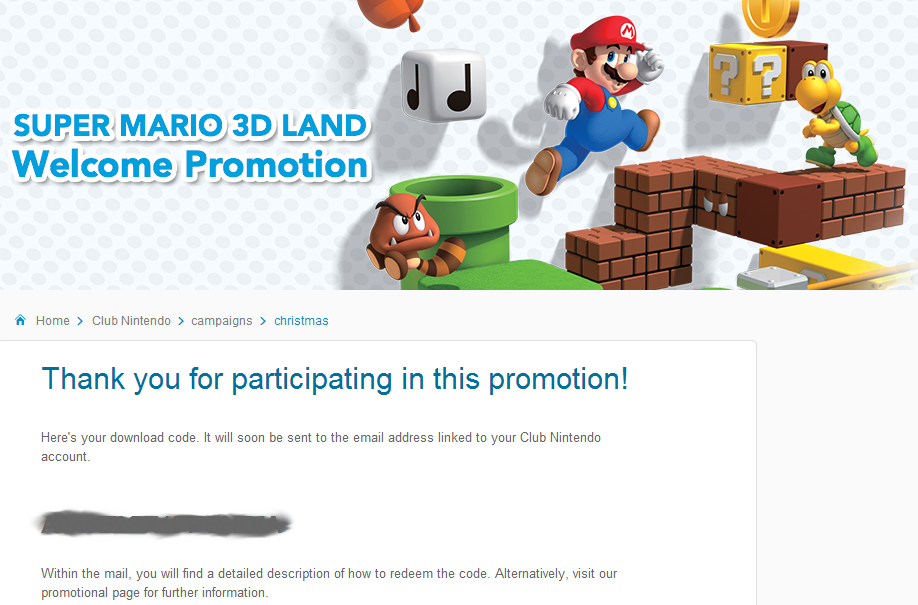 I originally was made aware of the promotion via Nintendo's EU Twitter account, which is linked below, i do not know if this available for US 3DS owners:
Nintendo of Europe